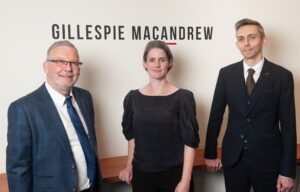 Gillespie Macandrew has bolstered its market-leading Land & Rural Business and Private Client & Tax teams and strengthened its experienced Commercial Property team with a series of recent hires.
Newly appointed Legal Directors Fiona Scott, Stewart Dunbar and Garry Gibson joined Gillespie Macandrew in September this year, bringing considerable experience to key teams within the firm.
Rural lawyer Fiona Scott, who joined from Brodies, is recognised for her in-depth experience within the rural property sector, with particular expertise in complex conveyancing and title matters, as well as the private rented sector.
Private client specialist Stewart Dunbar joined from Blackadders and is a member of the Society of Trusts and Estates Practitioners (STEP) and brings a wealth of experience advising on a broad range of estate-planning matters.
Property expert Garry Gibson, joined the firm's Commercial Property team in Glasgow, bringing over 30 years' experience specialising in retail, industrial, investment and property finance transactions from his previous role at Lindsays.
The firm also welcomed Cheryl Gallagher, Senior Solicitor – Housebuilder, Elliot Johnston, Solicitor – Land & Rural, Rachel Dixon, Paralegal – Corporate, along with, Mariola Seeruthun-Kowalczyk, Tax Associate and Euan Scott, Trainee Paralegal to their Private Client team.
Their arrival brings the total number of solicitors in the firm to 75 with 25 partners.
Gillespie Macandrew's Chief Executive Officer, Robert Graham-Campbell commented: "I am pleased to welcome these talented new team members to our firm.  These appointments bring further depth to our core areas of our practice in line with our medium-term growth strategy."
Gillespie Macandrew has offices in Edinburgh, Glasgow and Perth and advises on all areas of land and rural business, private client, commercial real estate, energy, tax and disputes.  Earlier this year Gillespie Macandrew welcomed new partners Ross Taylor to Construction and Sandy Telfer in Planning to the firm, along with the promotion of Lois Newton to partner in the Land & Rural team.