It is our people who define our business
Every member of our firm, regardless of their role, has a key part to play in the success of our business.
We offer the opportunity to work with expert lawyers and specialist teams in an open and supportive working environment. We are passionate about delivering exceptional service and building long lasting relationships with our clients and colleagues. We look for like-minded people who want to share in this ethos.
We are an ambitious firm who are committed to supporting and encouraging career development and offering excellent learning and development opportunities through our Training Academy.  We operate an open-door management policy, with a Chief Executive Officer and Chair, both non-lawyers, bringing broader business expertise to our Firm.
We have a long and proud history of involvement with our local communities and charitable organisations and have two official charity partners. Each member of staff is given a paid day off each year to take part in charitable activities.
Visit our current opportunities page or follow us on LinkedIn to view our vacancies. If there are no current opportunities of interest, we welcome speculative enquiries, so please send an email on to Lynda Linden. All contact will be treated in confidence.
Please see the following link if you wish to view our privacy notice in line with 2018 GDPR legislation: https://www.gillespiemacandrew.co.uk/privacy-notice/
Why Gillespie Macandrew?
Training and development
Our people are at the heart of our firm and we take training and development responsibilities seriously. We strongly believe a learning culture creates an exciting and challenging place to work. From legal to business support services we're dedicated to supporting you at every level making sure that you progress throughout your career.
Rewards and benefits
All of our employees have a key role to play in the success of our business. We offer exceptional support, an open and friendly working environment and a great range of benefits including career development, a competitive pay & rewards scheme and an open working culture.
Equal opportunities
We are an equal opportunities employer and value the diversity of our workforce. We always recruit the best individual for the role regardless of age, gender, religion, belief, race, sexual orientation and disability.
Please let us know if we can make any reasonable adjustments in support of your application and/or during the recruitment process.
Wellbeing
Gillespie Macandrew is committed to supporting the wellbeing of our staff.
Our Wellbeing Programme incorporates training and resources on a range of different topics such as supporting your mental health, nutrition and exercise.
We have two dedicated Wellbeing Champions who's role is to offer neutral support where needed.
STEP Platinum Employer Partner Accreditation
Gillespie Macandrew is proud to hold the STEP Platinum Employer Partner accreditation. We are dedicated to investing in our people and committed to developing the skills of our talented individuals throughout the firm.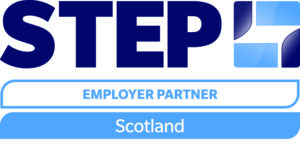 Flexibility
At Gillespie Macandrew we recognise and understand the need for flexibility and are committed to providing flexible working options.
Gillespie Macandrew announces its record donation to its charity partners
Gillespie Macandrew announces its financial results for the year ending 28 February 2023, achieving double digit income growth.
Gillespie Macandrew announces the appointment of corporate partner and accredited charity law specialist Alan Gilfillan.