Scottish law firm Gillespie Macandrew has made a significant charitable donation of £40,000 to be shared between its two charity partners, Edinburgh Children's Hospital Charity (ECHC) and Alzheimer Scotland.
As part of its ESG programme, in each of the last 7 years Gillespie Macandrew has donated around 1% of the firm's annual pre-tax profits to its partner charities.  In total this commitment has contributed over £210,000 to Scottish charitable causes.  The firm's charity partners are nominated and chosen by staff and supported through volunteering and other activities.  Last year Gillespie Macandrew began a three-year partnership with both ECHC and Alzheimer Scotland.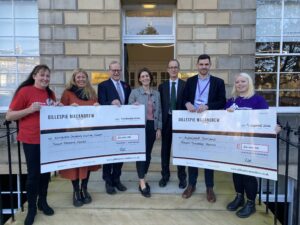 Robert Graham-Campbell, Chief Executive Officer at Gillespie Macandrew commented:
"We are delighted to share the firm's success with these two very important Scottish charities, particularly during a period of recessionary pressures for organisations and individuals.
Our practitioners deal with sensitive family matters every day and it is therefore very fitting that we support ECHC and Alzheimer Scotland who provide invaluable support to Scottish families."
Victoria Buchanan, Deputy Director of Development at Edinburgh Children's Hospital Charity, commented:
"Edinburgh Children's Hospital Charity is thrilled to receive this wonderful donation of £20,000! Being in hospital is tough for children but this donation will make things easier for them and their families. Through ECHC's daily art activities, youth work and family programme on the wards, children can have fun and feel better supported to face whatever challenges lie ahead. We'd like to thank everyone at Gillespie Macandrew for their generous donation."
Caroline Miller, Lead for Stakeholder Engagement at Alzheimer Scotland, commented:
"We are so grateful to all of the people at Gillespie Macandrew for their continued support over the past year. People living with dementia and those who care for them continue to be disproportionately affected by the legacy of the pandemic, as well as the impact of the cost-of-living crisis therefore it is vital we continue to be there to make sure nobody faces dementia alone. Gillespie Macandrew have made an incredible contribution during our partnership, raising over £40,000 which has all been used to support people living with dementia here in Scotland. Services supported include our network of Dementia Advisors who provide support, advice and advocacy, and our 24-Hour Freephone Dementia Helpline which is a lifeline for so many".
Gillespie Macandrew has a long and proud history of supporting not for profit organisations and staff are given a paid day off each year to participate in charitable or corporate and social responsibility events.
The firm has offices in Edinburgh, Glasgow and Perth, advising clients on all areas of land and rural business, private client, commercial real estate, energy, tax and disputes, combining a personal approach with industry-leading expertise.